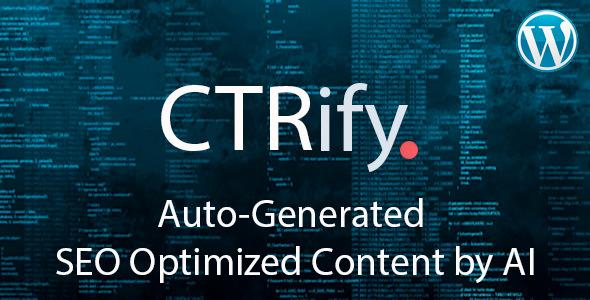 35
% per license sold
5
% per credits purchase lifetime (*)
CTRify WordPress Plugin allows you to generate fully SEO Optimized Original Content for your websites in seconds!
To generate content with CTRify WordPress Plugin is simple as writing a single keyword. Our AI will learn all about it and generate content according to the selected type of campaign.
There are 3 main types of content campaigns:
Questions Answears Campaign:

Perhaps the world's simplest way of creating SEO-optimized quality content. You just need to write a keyword, let's say "SEO". Our AI will learn all about it and generate all possible questions people may have about such a term. And of course the answers to each of them. You can see a real example on our own blog all the content was generated simply by each keyword you can see on the menu, corresponding to a category.




Posts from a Keywords list Campaign:

Possible the most optimized way of generating content available today. Give a list of keywords from your keyword research to our AI, and it will generate a post for each of them.


Single post from a Keyword Cluster:

Possible the best way of generating a long post that covers all about a single subject. We followed theThe Anatomy of Top Performing Articles: Successful vs. Invisible Content — Semrush Study


Program FAQ
How to apply for this program?


Just create an account on our CTRify Platform. Once logged in, you´ll find your referral link for this product on the Referral program Inviter page




How to use the referral URL?


You can embed this URL on any email or website or email an invite directly using the form at the right. Your new invitees will appear here as soon as they purchase the plugin on your earnings page.




How do I get Paid?


Commissions for this program are paid in real time to your registered Paypal account.




How do lifetime commissions work?


If a product has lifetime commission activated it means that you will receive recurring commissions for every future purchase of services done by your referred sale on the referred service inside the plugin or inside our platform.



(*) Lifetime commission is applicable to all referral accounts in good standing. We consider a good standing account as a partner account that refers to a minimum of 1 new referral sale per month for the given program or product. Not referring new sales for 2 months turn off recurring commissions of precedent products. If new sales are sent, lifetime recurring commission will be active for those new referred sales.